It's Monday! What are you reading?

It's Monday! What are you reading? is hosted by Sheila at
Book Journey
. For this meme, bloggers post what they finished last week, what they're currently reading, and what they plan to start this week.
My comments are not meant to be recaps of the story lines as I include a link to
Goodreads
for their synopsis of the book. I am merely stating how I felt about the book without giving any spoilers.
66 COMPLETED READS TO DATE!
1 not finished as it expired so I will have to borrow it again. The Nightmare
FINISHED:
Loved this, the third book of the series the most. At first I was put off about the amount of flashbacks to Jacques
Cartier but then it got me totally suckered in. As a former Montrealer who grew up there in the late 60s the
history reminded me how little I really remembered about the october crisis. I loved the intertwining of real
politicians such as Trudeau, Drapeau, Houde, Levesque. I was so intrigued I have reserved some books on Trudeau from the library.
From prizewinning Bangladeshi novelist Tahmima Anam comes her deeply moving second novel about the rise of Islamic radicalism in Bangladesh, seen through the intimate lens of a family.
Pankaj Mishra praised
A Golden Age
, Tahmima Anam's debut novel, as a "startlingly accomplished and gripping novel that describes not only the tumult of a great historical event . . . but also the small but heroic struggles of individuals living in the shadow of revolution and war." In her new novel,
The Good Muslim
, Anam again deftly weaves the personal and the political, evoking with great skill and urgency the lasting ravages of war and the competing loyalties of love and belief.
In the dying days of a brutal civil war, Sohail Haque stumbles upon an abandoned building. Inside he finds a young woman whose story will haunt him for a lifetime to come. . . . Almost a decade later, Sohail's sister, Maya, returns home after a long absence to find her beloved brother transformed. While Maya has stuck to her revolutionary ideals, Sohail has shunned his old life to become a charismatic religious leader. And when Sohail decides to send his son to a madrasa, the conflict between brother and sister comes to a devastating climax. Set in Bangladesh at a time when religious fundamentalism is on the rise,
The Good Muslim
is an epic story about faith, family, and the long shadow of war.
This is the second book in the trilogy and I have not read the first one. I think I might like to read the third one.
It read well as a stand alone novel.
Maya, the main character, left me feeling very exasperated with her.
Her moodiness with her
small
nephew annoyed me. She just didn't feel likable.
As for The Good Muslim, I'm not sure who that refers to.
STARTED: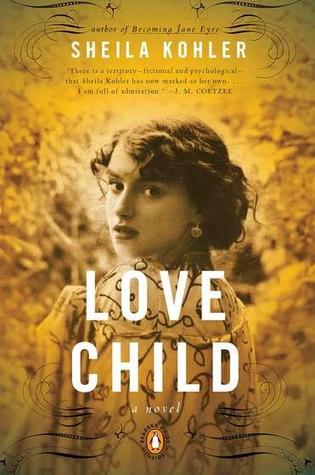 The compelling story of a forbidden marriage, a baby lost, and a love triangle gone horribly wrong,
Love Child
centers on Bill, a South African woman whose life has been defined by the apartheid-era, class-riven society in which she lives. Under pressure to make her will, Bill is forced to think about the momentous events and decisions that have made her an extremely wealthy if somewhat disillusioned woman. To whom should she leave her fortune? As Bill relives her past, we learn that this is a simple question with a complicated answer. In elegant, sensual, and nuanced prose, Kohler skillfully explores the space between our dreams and our reality, between our hopes and our disappointments.