August 2017 - Toronto ON
Canoe Landing Park has been on my list forever and I finally rectified that this week.
You can follow my walk here.
The eight-hectare Canoe Landing Park includes an all-season Astroturf sports field and a commemorative Terry Fox running trail called the Miracle Mile.
Terry Fox, athlete, humanitarian, cancer research activist (born 28 July 1958 in Winnipeg, MB; died 28 June 1981 in New Westminster, BC). Terry Fox inspired the nation and the world through his courageous struggle against cancer and his determination to raise funds for cancer research. Not long after losing his right leg to cancer, Fox decided to run across Canada to raise awareness and money for cancer research. He ran from St. John's, Newfoundland, to Thunder Bay, Ontario, covering 5,373 km in 143 days, but was forced to halt his Marathon of Hope when cancer invaded his lungs. He died shortly before his 23rd birthday. The youngest person to be made a Companion of the Order of Canada, he was also named a Person of National Historic Significance by the Government of Canada and was inducted into Canada's Sports Hall of Fame. His courage and determination have inspired millions of people around the world, many of whom participate in the annual Terry Fox Run for cancer research.
Along the Fort York Blvd section are installation pieces that reference the brave life of this young man.
The plaque above, mounted below the champagne bottle says that it was to be opened when Terry received his Order of Canada but his mother decided it would only be opened when a cure for cancer was found.
A cast of the heart-shaped stone that Terry Fox's brother picked up at the spot Terry ended his run in Thunder Bay called A Touchstone.
Canoe Landing Park was designed by Douglas Coupland in collaboration with Phillips Farevaag Smallenberg. Coupland, famous for writing Generation X, has designed two other public art pieces in Toronto: a house clock at the shops of Don Mills, and the
1812 toy soldiers
outside of the Malibu condo on Lakeshore. He's continued his whimsical take on Canadiana in the Canoe Landing Park with four pieces.
Colourful oversized fishing bobbers. There is a splash pad here but the water wasn't on.
The canoe is large enough for people to stand in, and the perspective offers an unusual vista of cars streaming past the city, with the CN Tower closeby and Lake Ontario a bit farther away.
The canoe pays homage to Tom Thomson, Canada's foremost landscape artist.
On July 8, 1917, iconic Canadian painter Tom Thomson drowned in Algonquin Park's Canoe Lake.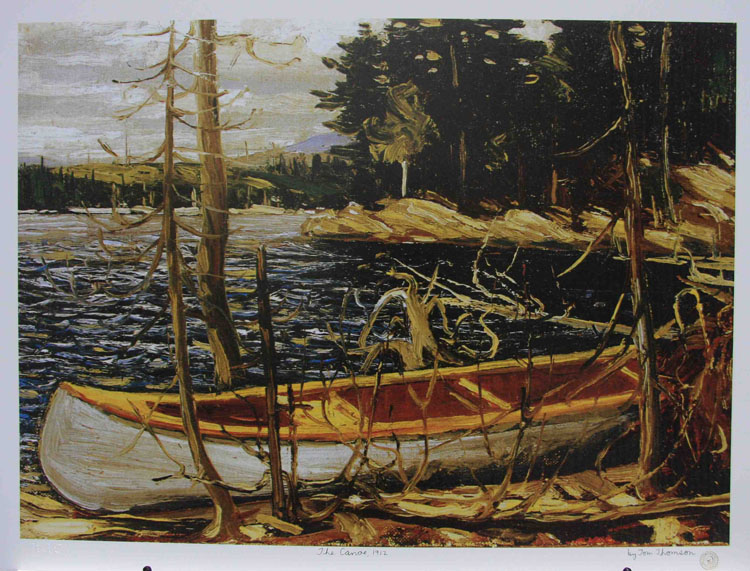 "Thomson's canoe" is smack in the centre of what used to be railway yards, now an eight-acre park fenced in by condos. It's a stark contrast to the bucolic landscape of Algonquin Park where Thomson canoed and painted in solitude to capture the quiet beauty of nature with dramatic effect.
So that's three Coupland pieces. Where's the fourth? It is a Beaver's Dam put was being worked on and was covered with fencing near the bobbers.