Toronto ON
We decided to leave Cabbagetown for last week's exploration and instead headed to Seaton Village, where we haven't really ventured before. But it turned out to be our first really hot day and we weren't prepared for it so we didn't last long.
Skaters Lane
- The Toronto Skating Club was located at 568 Dupont Street, now the Queen's Club tennis facility.
Click here to read more about the skating club.
When Augustus Bridle, critic for the Toronto Star, called the Toronto Skating Club's carnival "the greatest skating carnival in America," he wasn't merely indulging in civic boosterism. His sentiments were shared by not only Torontonians who eagerly awaited the skating revue each March, but also the thousands of spectators who—at the height of the Depression—travelled from as far afield as Cleveland, New York, and even Mexico City just to watch the on-ice theatrics. Hosted at Maple Leaf Gardens, which had made watching ice sports as comfortable and socially acceptable as a trip to the opera since its construction in 1931, the Skating Carnival's audience was filled with the city's social elite.
The 1934 carnival, held on March 8 and 9, illustrates what made the ice revues so popular. In that year, Boris Volkoff, the Russian-bred, Toronto-based ballet master, was retained to choreograph a proper ballet on ice for the closing number. The result, thirty-five figure skaters performing Ravel's Bolero, was heartily praised by the media as the best work of the evening.
Plaque on Yonge St. near the Toronto Reference Library.
The 1934 season also marked the first Toronto performance of ten-time world champion Sonja Henie, who would borrow more than inspiration from the Toronto Skating Club for her own touring ice show in the coming years.

Minus its ice, the club, somewhat mysteriously, is still there, right down to its original wicker furniture. In 1957, Imperial Optical magnate Sydney Hermant, an avid tennis player, led a group which purchased the building and converted it into an indoor tennis club. The front door is always locked (members have keys), and membership is by invitation.
Loop Line
commemorates the many transportation and transit vehicles that have been part of the intersection of Dupont Street and Christie Street.

The first public transportation to Seaton Village was begun on July 27 1885 with horse drawn cars running on tracks from Front and Frederik Streets along King, Spadina, College and Bathurst, but ended at Bloor, near the current Bathurst Subway Station. The eastern section of Seaton village was serviced by the Bathurst cars in 1889 when tracks were laid from Bloor to the CPR Railway north of Dupont St. the railway tracks initially created a barrier from continuing north. On April 19 1894 an electrically powered line was instituted on Bathurst between King St. and the CPR tracks. It wasn't until December 1906 when cars left from Dupont and Christie Streets along Dupont and Bathurst down to Front, Church and King. In 1908 the cars on Bathurst were called "Exhibition" and travelled from Dupont and Christie to the "Ex".

Cream Top commemorates the many dairies that served Toronto from this area.
Willard's Cream Top Dairy, operated at 588-602 Dupont Street from 1925-1928, as a dairy division of Willard's Chocolates Ltd. In 1929 it was bought out by Silverwood's Dairies Ltd. A 1913 Report of the Medical Officer of Health for Toronto listed other local dairies as: Acme Dairy, 21 Essex St. (later, Acme Farmers Dairy at Walmer and Bridgman Sts.) Richardson's Brothers, 85 Yarmouth Rd., Walmer Dairy, 179 Kendal Ave., and Briar Hill Dairy, 314 Dupont St.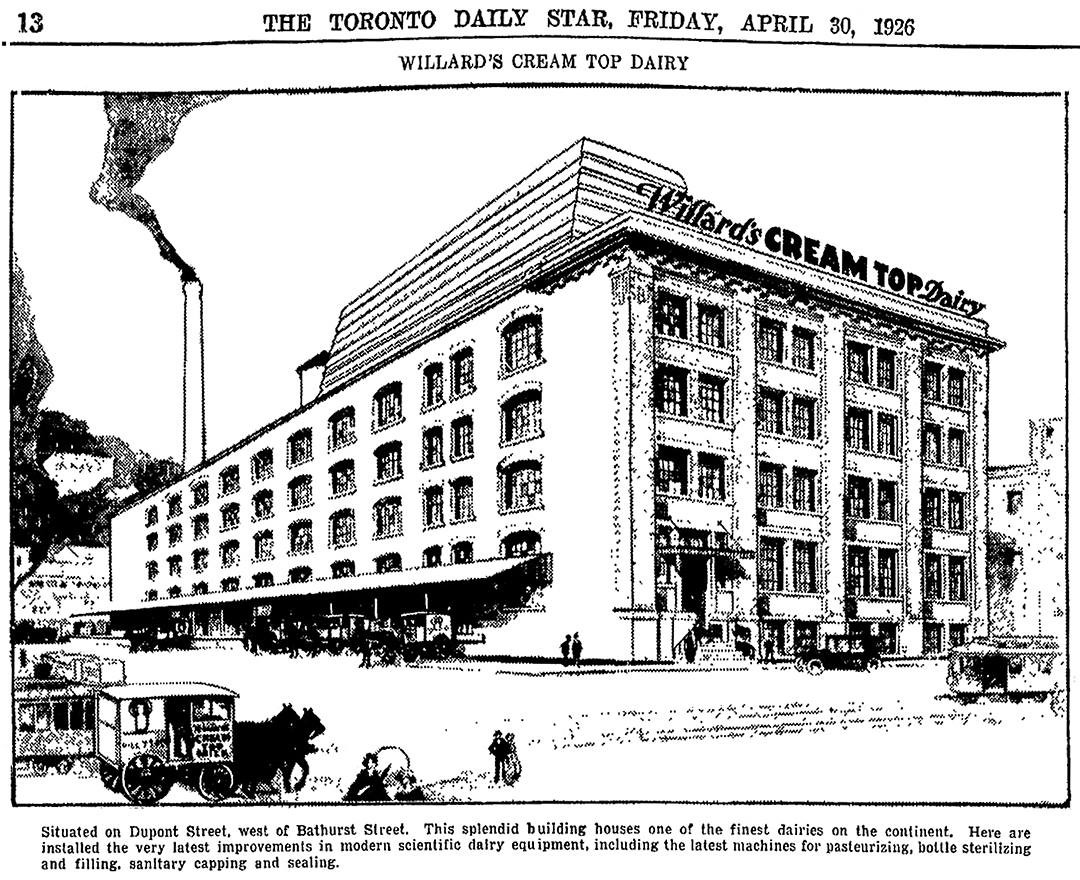 Willards had held the Cream Top bottle distribution rights for Ontario from the Cream Top Bottle Corporation of Albany New York which was the bottle's originator. Silverwood's Dairies had many dairies in Ontario but only in 1928 did it partner with Carruthers Whole Milk Dairy Company of Davenport Road to acquire the ice cream and dairy departments of Willard's Chocolates Ltd. and entered the Toronto market. Carruthers Silverwood's Dairy Company (becoming Silverwood's Dairies Ltd in 1936) operated out of the Dupont plant until 1983. The 98 year old structure was sold and is no longer extant. Silverwood's eventually took over the Mac' Milk Store enterprise, Borden's Dairies, and the Baskin Robbins ice cream franchise. In the 1980's Silverwood's was itself taken over by Ault Foods Ltd. a division of John Labatt Ltd.