August 2020 - Toronto ON
PANDEMIC NEWS AROUND TORONTO
Ontario health officials reported 95 cases of COVID-19 and one new death on Thursday, marking the longest stretch with fewer than 100 new cases per day since the end of March.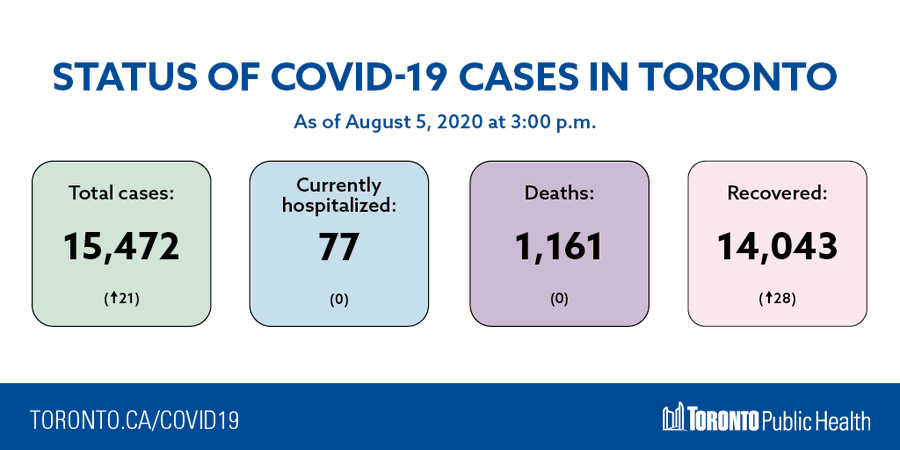 Toronto hospital ER chief warns worst of coronavirus pandemic has yet to pass.
And then you have the covidiots who just don't get it and ruin it for everyone.
Chatham-Kent Public Health says a cluster of 12 new COVID-19 cases in the region are linked to a boating trip involving multiple households.
This trip was outside of Chatham-Kent and was several days long.
CK Public Health officials say they are isolating these cases and tracing their contacts, of which there is a very large number.
"While we are in Stage 3, members of the community need to be reminded that we are still in a pandemic, and the potential for rapid spread of COVID-19 is very real," says Dr. David Colby, medical officer of health.
"Social circles are a maximum of 10 people for good reason; with everyone else we must physically distance."
AND IN OTHER NEWS...
Canada has announced that it will retaliate dollar for dollar – to the tune of C$3.6bn – after the US announced a 10% tariff on Canadian aluminum.
Donald Trump announced the new aluminum tariffs on Thursday at a campaign stop at a Whirlpool appliance plant in Ohio, accusing Canada of taking advantage of its trade relationship with the US.
At a news conference on Friday, Canada's deputy prime minister, Chrystia Freeland, called the move "unwarranted and unacceptable" and said Canada would not escalate a trade war – but that it would not back down either.
Freeland described the tariff – which would apply to unalloyed, unwrought aluminum – as an act of self-sabotage on the part of US, since it will increase the manufacturing cost and sale prices of consumer items including beer cans, appliances and cars.
Walking to the salon. A glorious summer morning.
These were in the Manulife Centre.
There's new rules everywhere.
There no hands on exhibits. The special exhibit gift shop has been moved to the general main shop which has been reduced in size with crowd control limits.
It's all good, I love the crowd control.
We also visited the Diane Arbus photography display, no photography allowed.
The striking black and white photographs of legendary American photographer Diane Arbus (1923–1971) revolutionized portraiture, through their range of subjects and their style. Primarily made in and around New York City, Arbus selected her subjects – including couples, children, nudists, suburban families, circus performers, and celebrities, among others – for their singularity. In 2016, thanks to the generosity of a small group of donors, the AGO acquired the world's second largest collection of Arbus photographs. The AGO honours that landmark acquisition of 522 works with a major solo exhibition, the first in Canada in almost three decades. Highlighting her evolution as an artist over fifteen years, Diane Arbus: Photographs, 1956–1971 features 150 photographs and is curated by Sophie Hackett, the AGO's Curator, Photography.
I finally have a book that I can get my teeth into and it is only a 7 day loan.
Sarah Blake's The Guest Book is a multi-generational drama set against a backdrop of war and social upheaval.