July 2016 - Toronto ON
Last Monday I headed out on a mission to visit the Toronto Post Office Museum. I headed to where I thought it was.
It's even got a plaque!
And a street sign.
HUH?? The doors are locked. And then I see it is a private office building. Stumped I pull out my pal, Google, who tells me to walk two minutes on Adelaide towards Church St. to 260 Adelaide East.
Arrow is pointing at Old Post Office Lane but the museum is in another old post office next to George Brown College.
OK but the numbers here are numbering 30, 40 not even close to 260. Google tells me now to keep walking towards Jarvis St. Numbers are 70. But I am another two minutes away.
I keep myself amused as I wander.
Corner Jarvis and Adelaide in St. James Park.
The Brick Man sculpture stands sentry outside the Jarvis Street entrance to the Vü condominium complex.
AHA I thought I had reached my destination when I saw these stamp sculpture. But no sign for a museum and the building is far too new.
Am I going postal yet? I am at 234 Adelaide East.
Return to Centre
(cute title)
is told through a collection of stamps by artists Joanne Tod and Jon Reed, who were enlisted to pay homage to the 1834 first post office, a historic fixture in Toronto's St. Lawrence neighbourhood.
Return to Sender - Elvis Presley
The duo has distilled Canada's cultural memory down to 12 images (from 1897 to 1993), which, according to Tod, reflects both history and a few personal references. Noteworthy individuals in the mix include Idola Saint-Jean, a Quebec suffragette; the Fathers of Confederation; Vincent Massey, the first native-born Canadian to hold the governor-general post; and Louis Riel, who founded Manitoba and fought for the Métis people.
The Bank of Upper Canada Building is an 1827 bank building and one of the few buildings in Toronto that predates Toronto. It is located at 252 Adelaide Street East (originally 27 Duke Street East), in the Old Town district.
The former home of one of the city's earliest banks has had a storied history indeed. Only a few years after this neoclassical stone building was completed in 1834, it was involved in the 1837 Upper Canada Rebellion – when William Lyon Mackenzie tried (and failed) to attack the bank and steal the gold inside. In the years since, the Bank of Upper Canada Building has been a meat processing plant, a Catholic school and abandoned for years; today, it houses the offices of Myplanet and other businesses.




Next to the Bank of Upper Canada. The plaque states:

Designed by Toronto architect Henry Langley, this building was constructed as a boys school operated by the Brothers of the Christian Schools, a Catholic teaching order. The Brothers had purchased the former Bank of Upper Canada building to the immediate west in 1870. One year later this central building was completed to provide extra classroom, library and dormitory space. By 1876, the Institute's educational complex had expanded further to include the former Post Office to the immediate east. As the Institute's centre block, this building was originally set apart from its older adjoining neighbours by its Second Empire style, best defined by its mansard roof. Such roofs were later added to the other buildings. The entire complex served educational purposes until 1916. From 1925 to 1956, the United Farmers Co-operative Company used it for offices, cold storage, and a food processing plant. Later abandoned, the three buildings were saved from demolition and restored to use in the early 1980s.




Finally! You have reached your destination.



Originally all post offices in Upper Canada were owned by the postmasters in charge, who were imperial appointments. This building was constructed for postmaster James Scott Howard during 1833-1835 and functioned as the town's post office until Howard's dismissal in 1837. A typical example of a small public building of the time, combining public offices with a private residence, it survives as a rare example of an early Canadian post office. In 1876, it was incorporated into the present block of buildings. The mansard roof is a later addition.


Vintage looking mailboxes still in use today.




The building itself went through numerous uses after the post office vacated and is part of a historic block of buildings between George and Sherbourne Sts.

The block was purchased in 1920 by Christie's biscuits whose brick bakery was across the street in a building that now houses part of George Brown College. Five years later the United Farmers Co-op purchased the entire block and the Post Office used as cold storage until the 1950s when they vacated.

By 1971, it was abandoned and the buildings were nearly demolished after a fire in the late 1970s, but a complete restoration began in 1980, and in 1983 the First Post Office museum opened.




Quill pens were sharpened with a pen knife.


The museum displays many of the implements needed in the early 1800s to write a simple letter, including inkpots, quills and pen knives to sharpen the quills.
A person of means would carry a travelling writing desk, the forerunner to a laptop?
Seating yourself by the fireplace in its cozy reading room you can write a letter from the same post office that served the denizens of the city from 1833 to 1839.
Why a reading room in a post office? In an era of bad roads and horse drawn transportation a round trip to the post office could cost a farmer an entire day's work.
People opened and read their mail, in the reading room and then, composed a reply and mailed it. If a person were illiterate, a staff member at the post office would read the letter to its recipient and also write a reply for them.
I cross the street to get a shot of one of George Brown College's buildings.
I spot a mural in the lane beside the college and head back across.
And it's done by Elicser.
I cross back again to get the Post Office and Lasalle buildings.
I head south a block to King St. West.
The plaque reads:
"Home District School
On this site, on June 1, 1807, The Rev. George Okill Stuart opened the first public school at York in a small one-storey stone building attached to his modest frame house. In 1813 the school was removed to a barn at the corner of King and Yonge Streets where classes were held until 1816 when the "Old Blue School" was erected on Church Street.
Further east on the block.
The ghost sign appears to read "J. O'Connor NEA" I've done some searching but can't find any information.
Heading west looking towards the Financial District.
Click here for another walk in the same area last fall.
Some of the buildings along this block are featured.
Sign for St. Lawrence Hall which is featured in the link above.
I reach the corner of Church and King and notice that St. James Cathedral is open. I head over and take my time exploring it with a visitor's guide in hand.
Click here for a post on the cathedral.
I've posted this in the church post but I'll show it here as well as it is relevant to this walk. It was taken on Thursday. The old post office and George Brown are on that road that has the bend in it.
The green arrow is pointing at the Brick Man, red is Adelaide E with Old Post Office and George Brown College. Blue is pointing at St. Lawrence Hall.
Tuesday Travel
Our World Tuesday
Travel Photo Thursday
Weekend Travel Inspiration.
The Weekly Postcard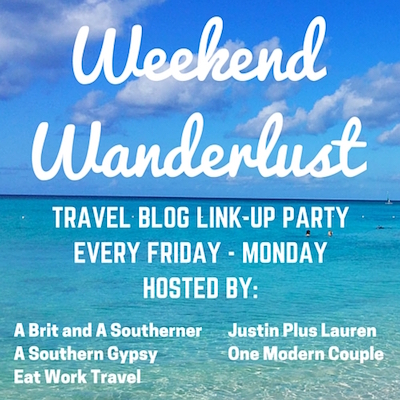 Weekend Wanderlust