These recipes go back to when I first started collecting recipes that I had tried and liked. I have not converted all of them to gluten free.
CONDIMENTS
Ketchup
Garlic Butter
BBQ sauce
has ketchup
BBQ sauce
no ketchup
Hoisin sauce
Swiss Chalet sauce
JAM
Strawberry Jam
breadmaker
BREAKFAST
Low Carb Coconut Flour Pancakes
Raspberry Pancakes
Sour Cream Pancakes with Blueberry Compote
French Toast Cinnamon Pancakes
SOUP
Malaysian Coconut Curry Shrimp
Mulligatawny Soup
chicken
Asian Meatball Soup
Cream of Chicken Soup
Broccoli Soup
Lazy Tomato Soup
Roasted Tomato Soup with Grilled Cheese Croutons
Pork Stock
No Cream of Celery Soup
Clam Chowder
Vietnamese Noodle Soup or Pho
with shrimp
SALAD AND DRESSINGS
Potato Salad Blender Dressing
Honey Dijon Balsamic Vinaigrette
Caesar Salad Dressing
Chez Bob Caesar salad
John's favourite from my Bob Blumer cookbook
Kale and Brussels Srpouts Salad
Ploughman's Salad
Creamy Dijon Potato Salad
Magic Pan Salad Dressing
goes way back to the 80s
Marinated Tomato Salad
NEW 2019
Honey Dijon vinaigrette
NEW 2020
DIPS
Hummus
chickpeas
Hummus
chickpeas
Tzatziki
John's recipe
Onion Cheese Ball
John;s recipe
Shrimp Dipping Sauce
originally from New York City 1980s Beefsteak Charlie's
Trio of Asian Dipping Sauces
Layered Nacho Dip
long time family favourite
Pate
chicken
Apple Caramel Dip
GRAVIES/SAUCES
Onion
Mustard
Marcus Wareing recipe great with lamb, chicken or fish
BEEF
Stuffed Flank Steak
Mom's recipe
Gingered Beef with Peppers
John cooked this
Ginger Beef
(2018)
Chili
Beef and Pork Meatloaf
Beef and Lamb Greek Meat Pies
GREEK MEAT PIE - Kreatopita
Meatloaf with Spinach
Beef Skewers
Impossible Cheeseburger Pie
Cabbage Rolls
Perfect Prime Rib
2019
CHICKEN
Buffalo Chicken Bites
Sticky Chicken
better and quicker than the next recipe
Sticky Chicken
Oven Fried Chicken
Easy Chicken Mozzarella
Spanish Stew Chicken Thighs with Chorizo
Jambalaya
from NOLA with sausage and shrimp
Cabbage and Chicken Stew
Citrus Chicken with Peppers
Chicken Divan
my sister's recipe from the 80s. 2019 - slow cooker recipe incl.
Homemade chicken soup for chicken divan
Chicken a la Orange
my mother's recipe
Parmesan Crusted Chicken with Arugula Salad
Spicy Chicken Kabobs with Blue Cheese Dip
Ultimate Chicken Fingers
Buffalo Chicken Wings - Deep Fryer
TURKEY
Squash and Turkey Bake
Turkey Meatloaf
LAMB
Shepherd's Pie
Greek Meat Pies
NOT gluten free but could use lettuce/endive
Lemon Lamb Chops
Shoulder Lamb Chops
Teriyaki Orange Lamb Chops
Sunday Dinner Lamb
Lamb Shanks in Guinness
PORK
Pork Stew with Beer
Roast Pork Belly
Slow Cooker Ribs
John thinks these are the best ribs ever!
Pork Piccata
Braised Pork Chops with Cabbage and Red Potatoes
Pulled P
ork also been around for a long time
Pork Meatloaf with Apple and Sage
Slow Cooker Pulled Pork
NEW 2020
ASIAN
Dumplings
NOT gluten free
Steamed Dumplings
NOT gluten free
Ground Pork with Green Beans
use siracha seasme seeds lemon
Moo Shu Pork
perfect with leftover roast pork
Pork Double Cooked
Sweet and Sour Pork
NEW 2018
Chicken Wings
Sweet and Sour Chicken with Bok Choy
Slow Cooker Mongolian Beef
Ginger Beef
excellent and quick
Sweet and Sour Stir fry
Beef and Veggie Stir Fry
Thai Beef Koftas
Asian Chicken Wraps
P.F. Chang's copycat
Slow Cooker General Tso's Chicken
NEW 2019
Thai steak salad
NEW 2020
Asian seared beef with noodle salad and ginger dressing
NEW 2020
INDIAN
Koftas
appetizer or lunch meatless
Butter Chicken
Pork Vindaloo with Tumeric Cabbage
Curry
Chinese Curry Chicken
just like Montreal House of Wong
Aloo Gobi
Onion Bhajis
my new and improved recipe
MEXICAN
Fajitas
can be vegetarian, fish, beef, chicken, pork, lamb
Guacomole
Fish tacos
MEATBALLS
Pork and Beef
Greek meatballs - veal
Thai Meatballs
Sweet and Sour Meatballs
Sweet and Sour Meatballs
Turkey Meatballs
Pork and Beef Meatballs
for spaghetti - John's recipe
FISH
Seared Scallops with Lemon
Lemon Basil Shrimp
Shrimp on the Barbie
Shrimp Creole
Imperial Shrimps
Crabs
Cilantro Lime Honey Salmon
with mayo
Shrimp Aquachile
Teriyaki Salmon
Crispy Salmon with Butter
Maple Glazed Salmon
Shrimp and Kielbasa Jambalaya 2
Shrimp and Kielbasa Jambalaya
Citrus Snapper with Dukkah Spiced Greens
Salmon cakes
NEW 2020 use canned salmon also add Old Bay seasoning
Crispy baked haddock
NEW 2020
PASTA
Carbonara
with pancetta
Penne with Vodka Sauce
Bolognese Sauce
with veal been making it since 1999
Mushroom Bologn
ese Vegan GF from a Longo's cooking class we took
Slow Cooker Tomato Sauce
Beef Pork Bolognese Sauce
NEW 2018 and better than the above
Classic lasagna
Pasta with mushrooms and brie
Brie bacon pasta
NEW 2020
VEGETABLES
Parmesan Balsamic Asparagus
with tomatoes and mushrooms
Steamed Lemon Broccoli
Golden Crusted Brussels Sprouts
Braised Red Cabbage
Brown Sugar Glazed Carrots
Roasted Cauliflower
Crispy Buffalo Cauliflower Poppers
great for lunch
Sauteed Kale
Irish (Mushy) Peas
English Mushy Peas
Sauteed Mushrooms
Roasted Mushrooms
Mushroom Risotto
from an LCBO cooking class
Broccoli and Cheese Smashed Potatoes
Broccoli Fritters
great for lunch
Au Gratin Potatoes
long time favourite
French Fries - Deep Fryer
Spanakopitas
spinach
Colcannon
Mom's recipe
SIDES
Garlic Mushroom Quinoa
Cauliflower "Fried Rice" with Ginger and Soy
Sausage Stuffing
BREAD (SAVOURY)
BREAD (SWEET)
Banana Bread
Cream Cheese Banana Bread
Cream Cheese Cranberry Bread
Orange Yogurt Loaf
Lemon Yogurt Breakfast Cake
I added cranberries and used a loaf pan
Orange Cranberry Loaf
Cinnamon Buns
Lemon Blueberry Loaf
Lemon Blueberry Loaf
with almond flour
Cinnamon Raisin Bread
Pineapple Banana Bread
Cinnamon Spice Applesauce Bread
Pumpkin Apple Harvest Bread
Pina Colada Quick Bread
Coconut and Carrot Bread
Tons of Blueberries Coffee Cake
Maple
Earl Grey Tea Cake
Crustless Blueberry Pie
Carrot Cake
gluten free and healthy
Blueberry Scones
Sour Cream Maple Banana Cake
Raspberry Cheese Coffee Cake
Raspberry Yogurt Cake
Lemon Loaf
very lemony
Coffee Coffee Cake
Pumpkin Coffee Cake
Gingerbread -
my mother's recipe
Mango tea cake
NEW 2020 did not make 2 loaves. Use apples
B
anana cranberry bread
NEW 2020 makes 2 loaves
DESSERT
Crema di Latte
Sticky Date Pudding
Blueberry Pear Cobbler
Dirt Pie
Lemon Mousse
quickest most delicious dessert
Greek Yogurt Pumpkin Cheesecake Mousse
no bake
Lemon Curd
Salted Caramel
ICE CREAM
using an ice cream maker updated July 2019
Fresh Raspberry
Frozen Berries
Lemon
Cranberry
1 ingredient ice cream
NEW 2020 amazing flavours
BAKING
Hummingbird Cake
Black Bean Brownies
Coconut Chocolate and Peanut Butter Squares
Longo's cooking class
O
ne bowl lemon brownies
NEW 2020
MUFFINS
Peanut Butter Banana Muffins
Cranberry Pumpkin Muffins
Coconut Flour Cranberry Lemon Muffins (grain-free & sugar-free)
Morning Glory Muffins
Cranberry Orange Chickpea Flour muffins
COOKIES
Mexican Chili Chocolate Chip Cookies
Chocolate Peanut Butter Cookies
John says better than Reeces Pieces
Loaded Cowboy Cookies
Peanut Butter Cookies
Rich Peanut Butter Cookies
Oatmeal Raisin Cookies
ALMOND BUTTER OATMEAL COOKIES
I would add raisins
Three Ingredient Macaroons
Cranberry meltaway cookies
3 Step No Bake Chocolate Coconut Cashew Bars
Date Squares
Chocolate almond flour rum cookies
GF
Lemon cookies
3 ingredients and GF
CHEESECAKE
Pumpkin Cheesecake Bars
Pumpkin Cheesecake
Raspberry Cheesecake
Cheesecake Brownies
Chocolate Cheesecake with Sour Cream Icing
Lemon Cheesecake
Mulled Wine
COOKING TIPS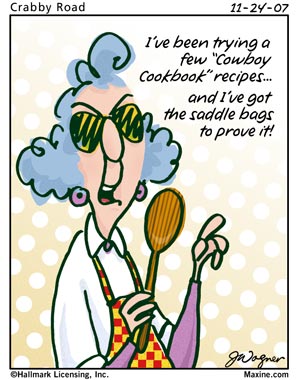 Use mason lids to shape eggs.
Use coconut milk instead of chicken broth in soup recipes. This is especially handy if you need to make a vegetarian recipe.
Butter
amount, in cups (c)
⅛ cup
¼ cup
⅓ cup
⅜ cup
½ cup
⅝ cup
⅔ cup
¾ cup
⅞ cup
1 cup
amount, in grams (g)
30 g
55 g
75 g
85 g
115 g
140 g
150 g
170 g
195 g
225 g
amount, in ounces (oz)
1 oz
2 oz
2.6 oz
3 oz
4 oz
5 oz
5.3 oz
6 oz
6.9 oz
7.9 oz
Melt butter in microwave and brush it on the bread once it is toasted. No more holes in your bread as you try to butter it.
Grate frozen/cold butter to quickly get to room temperature.
Put the measured butter in a baggie and run it under hot water to melt it.
Recipes always call for two tablespoons of tomato paste and then you are stuck with the rest of the can. I used to either put the rest in an ice cube tray or else freeze it by tablespoon on a cookie sheet and then store it in a baggie.
An even better way once you have taken what you need is to remove the lid from the bottom, push the paste towards the top and then freeze. Once frozen you can simply cut it into portions and freeze in a baggie.
To prevent fresh parsley from spoiling before I get a chance to use it all, I place washed sprigs in an ice cube tray, then fill the tray with water. After the cubes are frozen, I store them in a freezer bag. This makes it easy to pull out as many as needed and drop them in soups and stews. I think this work work for most herbs.
Use the leftover condiments that are too good to throw out. Add water or stock to them and use in soups, meat loafs or even pour over a roast.
Need a seasoning for a stir fry? Use Italian bottled salad dressing.
Ends of vegetables go into a baggie to add to soups. Even cooked vegetables such as leftover mashed potatoes can be saved to be used and as an added bonus they thicken the soup.
Use a turkey carcass to make the stock for the next holiday dinner. It cuts down on the work on the day and makes for a much tastier gravy.
Fruit flies? Put some apple cider vinegar into a bowl. Cover the top tightly with plastic wrap. Punch a few holes into the top of the wrap with a knife and set it near to where you are having the fruit fly problem.
Stale bread makes great croutons. Mix the stale cut up bread with various flavoured oils and some garlic and roast. They can them be frozen.
Storing flour in the freezer keeps the bugs out if you have the room.
Put a bay leaf in an opened bag of flour - it will keep the bugs away.
A crockpot is a great way to serve something at a buffet. I always take mine to my sister's for Christmas dinner. I make the mashed potatoes ahead of time and then use the crockpot to heat them up and serve.
When using eggs it helps to bring them to room temperature. But if you haven't planned in advance then there is a quick tip to help; you can put the eggs in a bowl of warm water for a few minutes to gently take off the chill out.
Freeze a lemon if you are going to need grated lemon peel for a recipe, it is much easier.
AND for cleaning up:
Spray Cleaner
1 16 oz empty spray bottle
water
2 T white vinegar
3 drops of liquid dish washing soap
Fill bottle with water almost to the top, add vinegar and liquid soap. Top with spray assembly, secure tightly. Turn bottle over about 10 times to mix the vinegar and liquid soap with the water without creating suds.