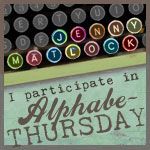 I'm linking up at Alphabe-THURSDAY today!
January 2014 - Durango Mexico
In the spirit of being in Mexico for the next few weeks I am going to post Spanish words.
Today's letter is L or LL
Until 2010, the Spanish alphabet contained two other letters, ch and ll, which were considered separate letters.
saltar de las llamas y caer en las brasas - to jump out of the frying pan and into the fire