July 2017 - Toronto ON
Outside the CBC building on Front St was this sidewalk drawing.
Andrew Stuart McLean, OC, journalist, professor, radio host, author, humorist (born 19 April 1948 in Montréal, QC; died 15 February 2017 in Toronto, ON). An Officer of the Order of Canada, Stuart McLean created The Vinyl Cafe and was one of the CBC's legendary radio personalities.
We loved to listen to his show The Vinyl Cafe.
Stuart McLean created a radio program called The Vinyl Cafe in 1994 as a summer replacement show. With his signature understated humour, McLean recounts the exploits of a fictional family whose patriarch, Dave, owns "the world's smallest" record store. Aside from McLean's story telling, a portion of The Vinyl Cafe is dedicated to musical performance.
By autumn 1997, the show was broadcast every Sunday at noon. In print as Stories from the Vinyl Cafe (1995), the book became a bestseller in Canada. A series of bestselling Vinyl Cafe collections followed. Home from the Vinyl Cafe won the Stephen Leacock Medal for Humour in 1999 and Vinyl Cafe Unplugged won the award for McLean again in 2001. A third Stephen Leacock Medal was awarded for Secrets from the Vinyl Cafe in 2007. McLean has added to the series with Extreme Vinyl Cafe (2009), Revenge of the Vinyl Cafe(2012), Time Now for the Vinyl Cafe Story Exchange (2013)and Vinyl Cafe Turns the Page (2015).
In 1998, Stuart McLean began taking the Vinyl Cafe on the road to theatres across the country. It is broadcast every week on CBC Radio and is also heard via satellite radio around the world and on public radio stations in the United States.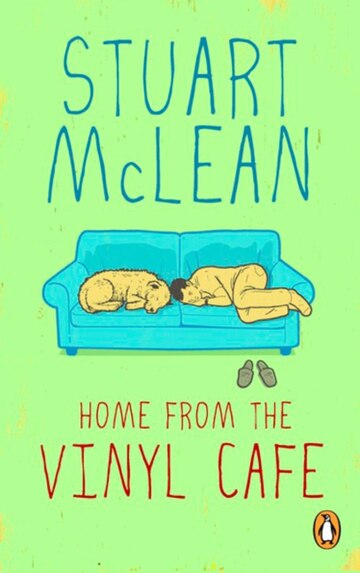 Here's a small sample, YouTube has many more.
Toilet Training The Cat
First Day of School